Fashion
10 of the Best Local Celebs who have appeared in Fashion Campaigns
Fashion brands have been for years doing collabos with local creatives and celebrities. The fashion industry has adapted to the influence by the entertainment culture in many ways from style, music and so on.
With so much attraction, local brands have seen relevancy and importance of collaborating with some of the most stylish and influential personalities to share their inspired designs and own style. We have picked our top 10 of best local celebs who appeared in various fashion campaigns. Well have a look:
Nomzamo Mbatha x PUMA
We all know that Nomzamo Mbatha is one of the coolest chicks in the industry at the moment. And PUMA has found it in their interest to endorse her. Nomzamo has been with the PUMA family for a while now and has been involved in alot of their launch campaigns for new sneakers and apparel. Recently she has been on the forefront during launch of Rihanna Fenty's and Rihanna Creepers. Nomzamo was the first to have the sneakers in SA before they were released to public.
Riky Rick x PUMA
Rapper – Riky Rick has collaborated with PUMA. In their collabo they launched a range of sports tops with the 'Wake>Pray>Work>Sleep' slogan that he has coined. Sure we have all noted that Riky is one the fashionable artists in SA and has had other endorsements with brands like Nike and Palladium and went to even push his own Boss Zonke basketball jerseys plus latest range of Makaveli range inspired by Hip Hop veteran Tupac.
Boity Thulo x LEGIT!
TV personality Boity Thulo was announced as LEGiT ambassador for Summer 2015. LEGIT! stands as a fashion-forward, style-savvy brand for young female fashionistas. This collabo saw Boity launch her own inspired range of active wear. The range was well received and saw masses getting their hands on it.
Maps Maponyane x Spree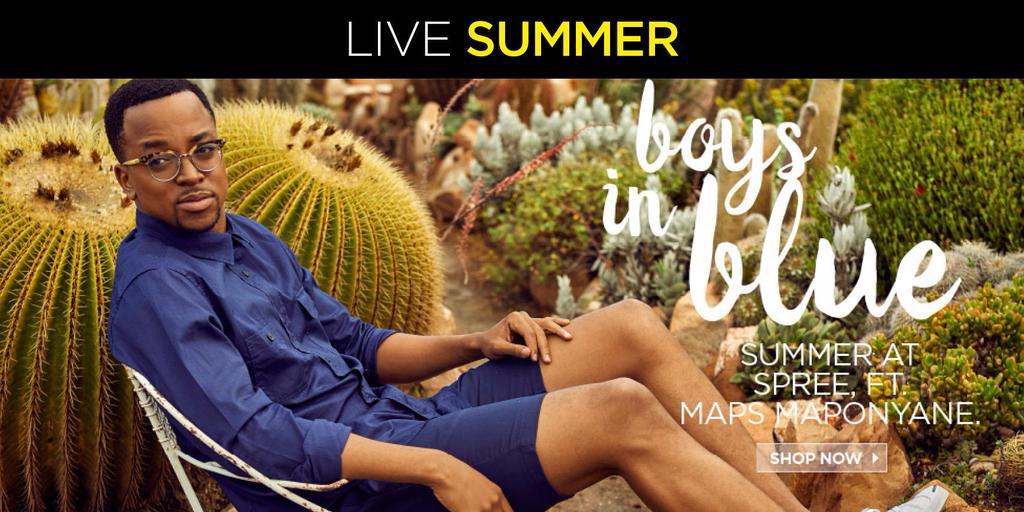 One of SA's major online fashion retailer – SPREE last year picked Maps Maponyane to work with them on their Spring/Summer 2015 range, from being a model in the recent summer campaign and TV ad to curating for the Maps' EDIT featured in the online store.
Nandi Mngoma x LEGIT!
Nandi Mngoma was selected to do a collabo with LEGIT for Summer 2014/15 range. The range represnted all elements mixed with style from fashion, bright colours, great music and being proud of who you are.
Karabo Moletsane x Cotton On
Australian retailer Cotton On has recently teamed up with one of South Africa's most popular illustrators, Karabo Poppy Moletsane, to design a range of graphic print male and female T-shirts. Best known for her self-promotional series Mzanzi Like Me and Sho't Left, Karabo is passionate about the relationship between fashion and art and brought a unique local element to the Tbar Artist Series which released earlier this year at Cotton On.
I SEE A DIFFERENT YOU x LEVIS'
LEVIS' recently collaborated with a collective of Soweto born Creatives – I SEE A DIFFERENT YOU represented by Justice Mukheli, Innocent Mukheli and Vuyo Mpantsha. On this 'We are Original' campaign the trio were the photographers during the casting that asked people to come with their own style of LEVIS'. And also showcased the range of LEVIS' denim.
Lootlove x Nike
Nike Sportswear hooked up with local curators BubbleGumClub for the release of the Nike Air Presto Ultra Flyknit for an exclusive shoot featuring TV personality and Urban Music Experience host, Luthando 'LootLove' Shosha and Jock/TV personality DJ Speedsta. LootLove has previously shown some of the exclusives from NIKE and receiving some of the sneakers first before going on retail. She also recently appeared on NIKE ID campaign – online design hub to allow consumers design their own NIKE sneakers.
Stilo Magolide x VANS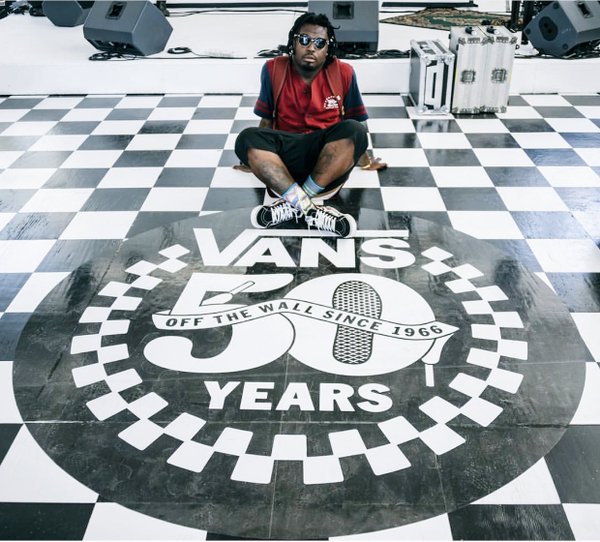 Rapper – Stilo Magolide has joined the VANS family. The rapper showcases some of VANS's latest sneakers and apparel. This collabo come as VANS celebrates its 50th Anniversary and aims to bring together music and creative culture.
Maps Maponyane x Woolworths
TV Personality and model – Maps Maponyane was chosen as face behind Woolworths range, which was geared for the 2015 spring /summer. The range included a collection of summer clothes from shorts, tops, shirts, hats and other fashion accessories.
Sarah Langa x Woolworths
Fashion & Lifestyle Blogger – Sarah Langa was selected as the face of Woolworths for Oh!so amazing Autumn Winter 2015 campaign. Integrating both the subject and the brand in an eye catching campaign. Woolies has mastered the art of featuring creatives on their campaigns,all about empowering&involving local creatives to their brand.
(Visited 2,211 times, 1 visits today)