Lifestyle
This Cape Town-based Treehouse is the ultimate getaway spot
Well, if you are still drooling about the Lion Sands Treehouses that we checked out just weeks back – then buckle up for another experience of a premium House tree.
Located in Cape Town, the treehouse (does not contain a tree,) is composed of four cylindrical wooden towers elevated on stilts, with the aim to lift the view from the taller trees surrounding the area.
WHAT TO EXPECT:
– Large curving windows
– Red cedar battens which cover the glass walls
– bright interiors that are finished with untreated wood and other materials that are meant to weather over time.
– The main living area occupies this first floor of the house, with each of the semi-circular bays housing a different function, including a patio, a dining alcove, and the main staircase.
– On the second floor, the master bedroom features a void enclosed by a glass balustrade with views to the level at the front, while the en-suite bathroom occupies a nook at the rear.
The structure is located in a small clearing amongst forest-like gardens, and respond similarly to the verticality of the surrounding trees in order to maximize views from the highest portion of the site.
Inspiration was drawn from the timber cabins of Horace Gifford and Kengo Kuma's notions of working with the void or in-between space, while Louis Kahn's mastery of pure form and the detailing ethic of Carlo Scarpa informed a process of geometric restraint and handcrafted manufacturing.
The building becomes a vertically arranged "clearing in the forest", with living space on level one, a bedroom on level two and a roof deck on the third. A plant room is located at the ground level below the building. The half round bays accommodate a patio, dining alcove and stair on the living level, a bathroom on the bedroom level and a built-in seat on the roof deck level – the pure geometries provide articulation to the spaces.
The columns, arms, and rings are constructed from laser-cut and folded Corten steel plate, and each column is divided into four 'trunks' in the interest of transparency, slenderness and to allow floor beams and windows to pass through the centre points of the rings. The steel trees support timber floors beams, facade glazing, and a western red cedar building envelope. The connections between steel and timber are expressed by means of hand-turned brass components.
CHECK IT OUT BELOW: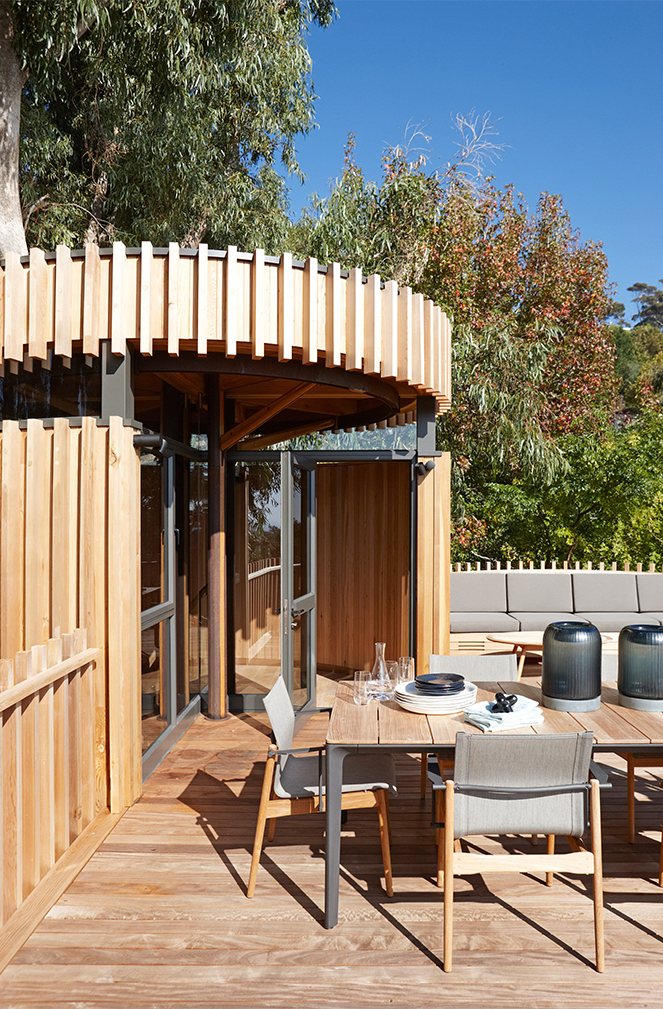 This treehouse is located in Cape Town and it is designed by local firm Malan Vorster Architecture Interior Design.
---
Share your thoughts, drop your comments below & Join the conversation, our Twitter or Facebook:
(Visited 534 times, 1 visits today)