News
Mario Kart Tour is now available for iOS and Android devices
Nintendo has officially released the much-awaited Mario Kart Tour for smart devices.
The game is now available to play on both iOS and Android devices.
The game is about Mario and friends who are racing around courses inspired by real-world cities, changed every two weeks. The game comes free, but gamers will pay extra for new characters, tracks and car parts.
Features:
– Endless Mario Kart fun at your fingertips!
The Mario Kart series known and loved by many is ready to take the world by storm – one smart device at a time! With just one finger, you can steer and drift with ease and sling devastating items as you go for the gold in cups filled with new and classic Mario Kart courses.
– Collect drivers, karts, badges
Earn Grand Stars by racing or fire off the featured pipe to receive more drivers, karts, and gliders! You can also proudly display badges, earned by completing certain challenges, next to your in-game name!
– Bonus challenge courses
In certain races, 1st place isn't always the goal. With names like "Vs. Mega Bowser" and "Goomba Takedown," these bonus challenge courses demand a different approach to gameplay and strategy!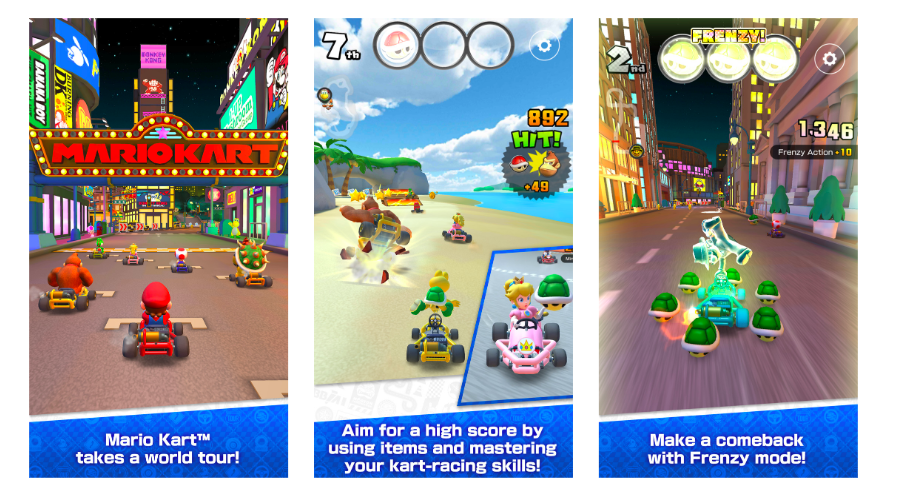 ---
Share your thoughts, Drop your comments below & Join the conversation, our Twitter or Facebook:
(Visited 147 times, 1 visits today)