Sneakers
The RETROSUPERFUTURE / Vault by Vans collection is finally releasing this weekend
Includes Sunglasses, apparel, and sneakers
Vans Vault and RetroSuperFuture have come together to present a unique rendition of the OG Style 43, accompanied by the apparel and the sunglasses.
The RETROSUPERFUTURE / Vault by Vans collection is an iconic collaboration that celebrates the essence of classic streetwear culture. The two brands each chose a key piece from their archives, RSF Smile and Vans OG 43 LX are the centerpieces of the collaboration, designing an exclusive collection following strict color code: natural tones with contrasting acid hues.
The pack features two OG Style 43 XL silhouettes in 'Crystal Khaki/Acid Green' and 'Black Crystal/Pungent Purple.' Both pairs see a classic canvas construction alongside toe boxes crafted with suede overlays. Additional accents include all-white and black uppers creating a versatile contrast amidst the Acid Green and Pungent Purple semi-transparent soles.
The shoes also come with 'RETROSUPERFUTURE' branding on the sides of the soles, on the front and on the tongue. Lastly, but certainly not least, both pairs feature special stitching that allows the Vans Vault OG Style 43's heel to fold-down flat, allowing you to also wear them as slip-on for ultimate ease and flexibility.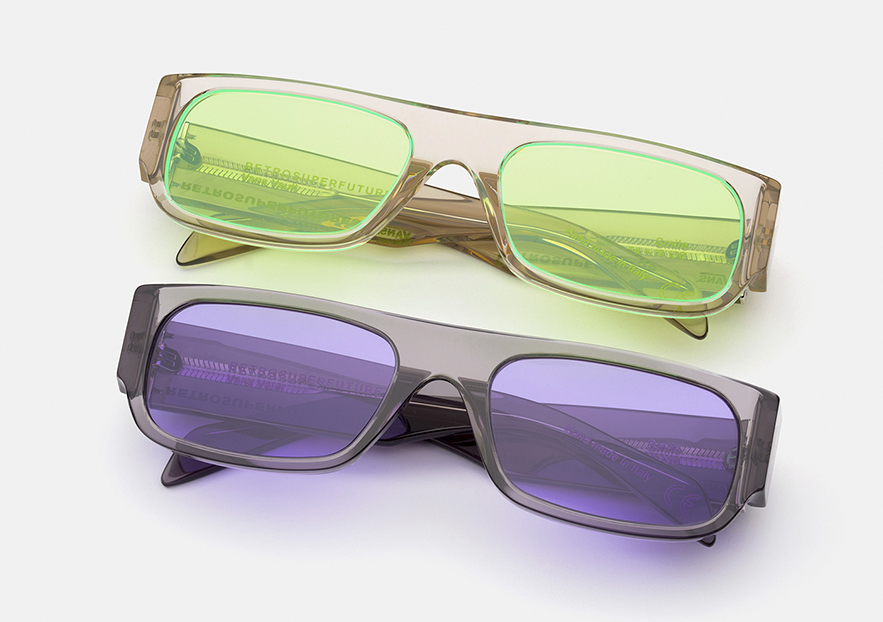 Next, are the co-branded RETROSUPERFUTURE sunglasses. The two pairs take inspiration from the bold colours used in the footwear drop, utilizing hues such as Crystal Khaki with Acid Green and a Black Crystal acetate with Pungent Purple for a duo of retro-tinged glasses in the 'Smile' model.
Lastly, the pack features two long sleeve tees to match the same colours of the Vans Vault and RETROSUPERFUTURE items. Co-branding is featured on the chest, sleeves, and back and the cotton for each long sleeve is extremely thick and durable.
Look out for the RETROSUPERFUTURE / Vault by Vans collection to release on Saturday, 12 October 2019 at Shelflife (Joburg & Cape Town) + online.
Shoes: Vans x RETROSUPERFUTURE OG Style 43 XL: R1299 (UK4, UK5, UK6, UK7, UK8, UK9, UK10, UK11)
Sunglasses: Vans x RETROSUPERFUTURE Smile Sunglasses: R3499
T-shirts: Vans x RETROSUPERFUTURE Longsleeve: R1299 (Sizes: S, M, L, XL)
---
Share your thoughts, drop your comments below & Join the conversation, our Twitter or Facebook:
(Visited 135 times, 1 visits today)