2016 brought alot of moments in the SA music industry.
So we have decided to compile Top 15 Most important moments in SA Music Industry. From winning awards, celebrating success of others, making international mark and to the industry loosing stars. Here it goes:
Black Coffee wins 2016…Awards, meeting Diddy
#SAMA22 organisers RiSA honoured Black Coffee with a Lifetime achievement award for flying the South African music flag loudly at this year's awards ceremony which took place back in June at Durban ICC.
Once more, Black Coffee made Mzansi proud once again at 2016 BET Awards. He was crowned the winner of Best International Act: Africa category at the the awards ceremony which took place at Los Angeles.
And onto social media, the popular jock left many people in the US raving about his musical talent. Earlier in March the award winning jock was seen hanging with Hip Hop Mogul/Entrepreneur – Puff Daddy at a ULTRA party in Miami.
Then months later, Diddy's puffdaddyandthefamily published exclusive photos of the two having meeting of the minds joined by Bad Boy heavy alumni French Montana at Malibu.
Into collaborations…Black Coffee got a super collaboration with Alicia Keys. The remix is part of the In Common (The Remixes) EP which got a worldwide release today by RCA Records. Other masterminds who delivered their work on this project includes; Lil Silva, Masters @ Work's Kenny Dope and Xpect.
BEEF Squashed… AKA , Cassper Nyovest, Anatii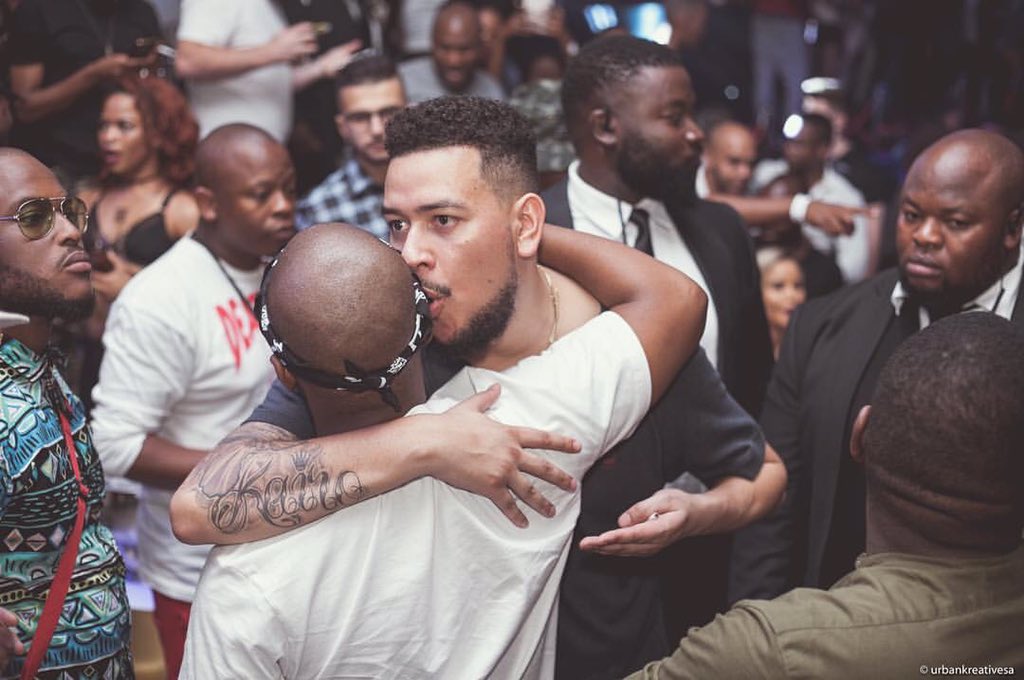 Anatii and AKA managed to sort out their issues after some serious meltdown. The two took it to public to confirm that they are back together again. And yes they're working on new music together, which at this moment we predict is part of AKA's 2017 album.
And the major Key has to be AKA and Cassper making peace and sharing an authentic moment together. Their beef went on for years, and got nasty from 'alleged' gun-point incident, throwing diss songs, and throwing shots on social media. But all this was fixed mid of this year, but the public only knew about it at Cassper's Fill Up After Party (in October). It's at this After party, where they both shared a small convo and hugged while everyone was in absolute wow!
Cassper Nyovest Fills Up Orlando Stadium
Once again Cassper Nyovest took a bold step to fill up the multi-purpose Orlando Stadium which accommodates 40 000 people. This is after he packed TicketPro Dome with 20 000 fans back in 2015. #FllupOrlandoStadium attracted massive numbers, with live performances from Wizkid, Emtee, Nasty C and more local acts. Straight after this show he made another major announcement… 'Closing moment for #FillUpOrlandoStadium !!! Thank you so much!!! Next year we do FNB Stadium!!' he posted on twitter.
Closing moment for #FillUpOrlandoStadium !!! Thank you so much!!! Next year we do FNB Stadium!!! New single dropping at 9AM titled #ABASHWE pic.twitter.com/NNtbNjlQDb

— Abuti Fill Up (@CassperNyovest) October 29, 2016
90% local music on Radio stations
Back in May, SABC commercial radio stations committed to prioritising more local content….Yes we talkin' about SABC radio stations playing 90% local music. And even though this was a total turn-off for a number of listeners, local musicians/artists and stables were excited as this was a beneficial factor to them. The music included all genres, from Jazz, Kwaito, Reggae and Gospel.
The industry lost stars…
2016 left sad news…Kwaito icon, Mandoza passed away in September after suffering from cancer scare , this is after doctors discovered a tumour in his brain.
Another major heartbreak, was the passing of Gospel star, Sfiso Ncwane. Earlier this month he passed away after suffering from kidney failure.
House Music jock, Rowick Deep who has been in the music scene for year, was killed it in April this year.
Other soul's we will miss; Radio veteran – Segale Mogotsi, House music jock – DJ Duke Soul and musician/dancer – Koyo Bala.
More endorsement…
2016 saw a number of artists scoring some nice endorsements.
Khuli Chana and ABSOLUT Vodka have been making waves with their partnership for years. Now for 2016 they presented something extra special to their loyal fans. ABSOLUT Vodka celebrated African creativity with the launch of the exclusive screen-printed Khuli Chana Signature Edition Bottle to the South African market. Then later launched a music project titled 'One Source,' the project follows Khuli Chana and other leading African musicians and artists on a journey across Africa, in which they discover their connectedness and collaborate to create an E.P. and music video, titled One Source.
Russian Bear has teamed up with rapper, Riky Rick to release a fresh new limited edition Russian Bear x Riky Rick bottle.
This new design showcases the iconic Russian Bear logo and bottle shape, with a bright red design sporting Riky's lyrics and likeness.
Months ago, Cruz vodka and AKA announced their multi million rand collaboration thought to be the largest ever signed by a South African musician. The collaboration will be communicated through TV,print outdoor and events. This will include a number of about 35 billboards nationwide with the first commercial already airing.
Award-winning songbird – LIRA was announced first SA influencer for Bobbi Brown Cosmetics this year. The US make-up brand is renowned for its commitment to natural looking make-up created by a make-up artist by Bobbi Brown. She developed her own cosmetics products which consists of lipsticks, multi-purpose Artstick and more.
Cassper Nyovest announced a deal with AG Mobile, which later saw him launch his own smartphone – AG#Hashtag. The partnership expanded into a nationwide tour where the rapper travelled city to city launching his recent album 'Refiloe'.
Debut Albums… Ma-E, A-Reece, Nasty C, Sjava, Amanda Black
It's this very same year where got a number of exciting debut projects. Even after that much anticipation….
Ma-E released his debut album 'Township Counsellor' which features some of his major singles; uGogo, Kingpin (Rau Rau), Lie2Me, Hlasela and Ke Summer. Collabos on the album brings an A-List of local rappers from AKA, Emtee, KiD X, Maggz , PRO, Dj Capital, Masandi and more.
Nasty C also released his debut project 'Bad Hair' this year. Packed with 16-tracks , the album features a heavy list of acts from Omari Hardwick, Tshego, Riky Rick, Tellaman, Erick Rush and Rowlene. Then album got extended with another project 'Bad Hair Extensions' which released earlier this month, included feature from French Montana.
Another spectacular project has to be A-Reece's solo album 'Paradise'. Packed with 18 tracks, the list includes his major singles; Couldn't , Mgani, Sebenza and Zimbali. Major features appearing on the projects includes Emtee, P-Jay and ofcourse the sensational singer Amanda Black who did massive justice on her features + writing.
Another one from Ambitiouz Entertainment; Sjava dropped his debut project 'Isina Muva'. Featuring 16 tracks; the album began with the build up months back when Sjava released 'Ekseni' then followed by 'Uthando' as two leading singles. The album is inspired by Sjava's long-lived passion for Maskandi music. Featured artists on the album includes; Saudi and A-Reece.
And how can we not mention Amanda Black…2016 has been a good year for Ambitiouz Entertainment and recording Amanda is an excellent move by the stable. Most will remember her voice from Season 11 of Idols SA, and since then she never looked back into creating her own story and sharing her style of music inspired by Brenda Fassie, Thandiswa Mazwai, Simphiwe Dana. The album features her major single 'Amazulu' Then paves way into this storytelling afro-pop/R&B filled project which is packed with 14-tracks.
After 3 weeks of release the album was platinum certified, selling over 40 000 copies.
It's Platinum, Gold
Now onto sales sales sales. This year a number of album received gold and platinum certification from RiSA.
Black Motion's album 'Ya Badimo' managed to reach gold couple of weeks after release.
ZONKE's recent album 'Work of Heart' was platinum certified this year.
eMTee's 2015 album 'Avery' managed to reach platinum even after cleaning a number of awards between 2015-2016.
AKA's album 'LEVELS' was platinum certified this year, and later his single 'All Eyes On Me' went platinum and 'Baddest' went gold.
Dropping dope project after one another, Mobi Dixon's 'Tribal Soul' was earlier this platinum certified.
Black Coffee released his new EP 'The Journey Continues' a month ago. Few hours after release the project went gold, selling over 20 000 copies.
Mabala Noise signs everyone & that R5million…
The major signing for 2016…Mabala Noise took in industry's major names; Riky Rick, Nasty C, DJ Finzo, Major League DJz, Gigi Lamayne, Prokid, Zakwe and Zola. While media personalities included Khanyi Mbau, Mbali Nkosi, Letoya Makhene and Kay Sibiya. While this came as a shock to many, EFF Leader – Julius Malema later took aim at the stable , with claims that the company is a front for money laundering from Department of Water Affairs through tenders and claims all rappers from the company are paid R5 Million each.
Then the label reached out to respond through a press conference, representing the label – Reggie Nkabinde dismissed the claims and revealed they're consulting with lawyers.
"We are still consulting our legal team as to how to go forward. Julius grew up in jail, he likes being in jail so it's a waste of time to take him to court. "
"Why would artists sell their soul for R5million. We will continue to continue in our quest to ensure an African child continues," he added.
"The day we take him to task he must be able to prove his statements for now anyone who wants proof must go ask Julius," he added.
Well the matter has since been calm, and the stable has been making major moves, with recently getting Nasty C to collaborate with Omari Hardwick and French Montana, while Du Boiz got a cool collabo with Tyga.
DJ Maphorisa works on Drake's music
SA's very own jock/producer – DJ Maphorisa had a blast in 2016. But the highlight has to be his work on Drake x Wizkid major record 'One Dance'. The record was part of Drake's recent album 'Views'. The song was placed on the Billboard Hot 100 chart, more than any act has charted on the ranking in one week.
Cashtime meltdown….The exit of Moozlie & Kid X
Bad turnout for Cashtime Life stable…This year the stable under the wings of K.O and Ma-E got a low blow. This is after Moozlie and Kid X parted ways with the stable , even after releasing some projects under it. Well word on street was both felt they were not supported enough with the musical plans. But to make it clear , K.O later released a statement and made it clear 'When Moozlie left this year, we – like their fans – were still waiting for Maggz and Kid X to present their albums. They still were not ready. I'll be the first to admit my leadership in Cashtime Life is not perfect – especially owing to my schedule for the past year-and-a-half – but these are my friends. So it hurts that none of them stand up for me and tell the truth that the delay of their albums dropping has nothing to do with me and everything to do with their own pace.'
Well moving along, Moozlie has her own stable 'Nomuzi Mabena Music' and is currently wrapping her debut album set to drop in 2017.
Kid X has also been working on new music with new project expected in 2017.
Gareth Cliff & Tbo Touch launches Cliff Central
Radio Personality / Entrepreneur – Tbo Touch and Gareth Cliff teamed up together to launch their own online radio station – Touch Central. This is after Tbo Touch resigned from his radio job at Metro FM.

Touch Central today is a home of Tbo Touch who hosts drive time slot, Gareth Cliff who does the breakfast show, Lerato Tshabalala, TolAssMo, Arye Kellman and more. Recently Touch Central announced a major deal with MTN to allow their subscribers to tune-in for free when streaming.
Cassper Nyovest & AKA appear on 'Sway in the Morning'
This year, AKA and Cassper Nyovest appeared on popular US breakfast show – Sway In the Morning.
The show is hosted by Sway Calloway better known as Sway, American rapper and reporter and executive producer for MTV News. The show invites various Hip Hop acts to their slot for interviews and they drop some flows while at it. Cassper Nyovest is the first African artist to be hosted on the show.
Black Motion major deal with SONY
Soshanguve House music duo – Black Motion signed a global licensing with Sony Music Entertainment Africa. Well this is a major move to their career, as it allows their future project to see global release including their current album 'Ya Badimo'.
J. Cole performance in SA
The highlight of one international act, has to be J. Cole. The American rapper was booked to perform at Castle Lite Unlocks concert which took place at TicketPro Dome back in June. This concert remains the best on the books.
Drop your comments below & Join the conversation , even on our Twitter or Facebook :
(Visited 1,886 times, 1 visits today)