We all got a bunch of Apps on our smartphones that keep us entertained or help us be productive on daily basis.
Either it's work related, play, gym, or managing your finances. Below we have put together a list of apps that we think will get you going on daily basis. Ofcourse there's a bunch of cool apps that you'd even want to add to this list, but we only had to come down to 10 only.
Twitter
Twitter has become a popular platform to use on daily basis, either you want to check what your friends are saying, your fav celeb is ranting about or catch up on trending topics/news. But quite interesting, South Africans have managed to make this platform more fun and productive, and I have to say it's crazy.
Besides just tweeting and ranting; Twitter has become a platform where you can:
– raise awareness about crime and violence
– catch up on current affairs
– get support from a service provider
– Find a Job or career tips/advice
– Get daily Traffic and Weather updates
and Interact with your fav celeb or artist.
Overall this is an essential platform for daily basis if you want to know what's happening in the world and connect with other people.
Nike+ Running
Running has become more of a lifestyle these days. And with Nike+ Running on your smartphone, you're able to track your progress in detail – and that's on daily basis. But the app isn't only about that, it's also a platform to connect with friends, running community/run clubs. The app is well popular for core features; tracking distance, pace, and GPS routes. Furthermore, it has special features like trophies and challenge programs between friends. And you're also able to share your progress on social media platforms like Facebook, Twitter and more.
Alternative: Fitness Point
If you're more about exercising and gym life; go check out Fitness Point – which I only discovered through a friend. The app helps you track your progress at the gym, allows you to create a workout plan with exercises you like. The fun part of the app – is hundreds of exercises that you can browse through with descriptions and animations.
Google Maps
Google Maps was just lame! Instead, I moved to Waze which provides similar features but more detailed like searching places, finding places, traffic information and more. For the fact that Waze has that community factor to it makes it more interactive. But it's only recently I'm back on Google Maps after it received some great updates, to match Waze. Besides navigating or looking for directions, Google Maps has extended features to make it more fun. You're now able to look for places, find a parking spot, mark where you parked your car, request an uber from this app, see food menus, make reservations and more. For instance, let's say you're in an area you don't know well and you're looking for an ATM or Pizza place, you can open up Google Maps and just search 'ATM' or 'Pizza' and within seconds it will show your nearest ATMs / Pizza spots.
This is an essential app especially if you travel often or your drive from area to area on daily basis.
Alternative: Waze
The app helps you avoid the frustration of navigating around marathon closures or getting stuck in game-day traffic by allowing program organizers to update the app with road closures and delays.
YouTube
This is quite obvious, considering there's a bunch of daily content and your favourite soapie/drama on Youtube. The platform has a bunch of content, and most people are there to watch music videos, documentaries, interviews, comedy shows, listen to music and catch up on tv shows. Without a doubt, the app has become more important for those who are fans of visual content.
Evernote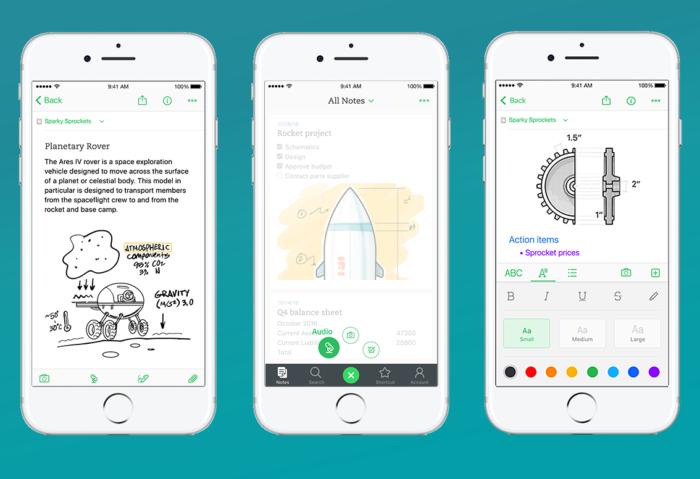 An app you will love, especially when it comes to productivity and scheduling. Evernote gives you the tools you need to keep your work effortlessly organized from searchable notes, to-do lists, photos, audio, video, attach Microsoft Office docs, PDFs and more. If you're about the business, the app also helps to organize your receipts, bills and invoices.
The more interesting part of the app; it gives you the ability to sync and comment on content across all devices; automatically across any computer, phone or tablet. And more to it, Evernote gives you the tools to share, discuss and collaborate productively with others.
VSCO/Cam
Another cool app to get, especially for a photographer or anyone who likes taking photos…Yes, we see you insta ladies! VSCO Cam is simply a photo editing tool that gives the photos that you take with your smartphone a much more elegant touch.
You can take the photos from the VSCO Cam app itself, where they are saved to a folder with thumbnail previews enabled. That makes it easy to choose which images you want to work with at any point.
Once you select a photograph, you'll have access to dozens of options for editing it. Just select a filter to add or an operation to perform (colour adjust, contrast, brilliance, etc) and adjust the corresponding parameters.
When you've finished working with your photos, you can share them using other apps like Facebook or Instagram. Of course, you can also choose to email them to yourself or just store them on your device for later.
Uber/UberEats
This is one of the most popular apps right now. And sure most of you are familiar with Uber, a taxi/transport app that lets you take trips from A to B with just a click of a button. Uber simplifies your life, pick you at your door and drop you off just where you want. And same applies to UberEats.
UberEATS is a service that allows food delivery, saving you time when you want a meal delivered to your doorstep in minutes. The service is available 24/365 and allows you to order from restaurants that are up to 3.5km away from you + ability to submit dietary requirements.
Just like the Uber transport service, UberEATS use credit/cheque card for cashless payments.
Alternative: Taxify
Similar to Uber, Taxify also lets you take trips from A to B with just a click of a button. haven't used the app, but heard people say it's way cheaper compared to Uber.
WhatsApp
Quite an obvious one. Yep everyone is on WhatsApp and this messaging app has become important on daily basis. For long, the app was just about me chatting with my friends about work and a bunch more. But now it has expanded to organizations, family groups, work groups, students and will soon allow business profiles. On Whatsapp, you're able to exchange messages, share photos, videos, documents, audio files and even make voice/video calls. You can simply connect to anyone who's on the app, as long as you have their Whatsapp number. The app is user-friendly and that's why we even see an older age group using it.
Shazam
This is a simple music app. For music lovers, if you're hearing a song and you have no idea who's singing the song or the title of the song just use Shazam.
When the user turns on Auto Shazam, the app notifies the user whenever it identifies a new song, show, or ad. All matches automatically go into the user's collection and are listed by date, so users can browse through their list, opening the Shazams that interest them.
22Seven
This app is the reason why we excluded your usual banking app. Rather raise the bar atleast and let you know about 2Seven. Well, I can personally say it hasn't been an easy task to save money, with all the daily, monthly expenses and those unforeseen costs.
I took it upon myself to get the 22seven app, to simply manage my money well. This is a good money management tool, you're are able to track where you send your money mostly on, you're able to avoid extra charges when making transactions, and importantly you can invest. Well, I recommend you try the 22seven and thank me later.
Did we leave out any? Drop your comments below & Join the conversation on our Twitter or Facebook :
(Visited 2,641 times, 1 visits today)