Sneakers
RAFFLE DETAILS: Nike Dunk Low "City Market"
Release info.
The one like no other Nike Dunk Low "City Market"  recently hit SNKRS ZA giving us nothing but L's, and now the silhouette is releasing at local retailers this week.
Dressed in a Multi-Color color blocking. Graphics nod to the brand's Blue Ribbon Sports roots, as well as industrial rice and coffee bags that are frequently upcycled from urban markets for a wide range of uses.
On the tongue, a small, zipped compartment nod to reusable grocery storage, with its accompanying tag re-imagined to resemble a nutrition facts label. Finally, an accompanying grocery bag pays its respects with a simple commendation: "Thank You For Caring!"
RAFFLE RELEASE DETAILS:
Archive SA
The Raffle link will go live for 1 hour on ArchiveSA IG stories on Monday, 29 March from 18:00-19:00. Retail price  R1,999.95.
One pair per customer
Multiple entries will be disqualified
Winners will be contacted via email
Sizes 7-10
Collection on Friday, 02 April 2021 from Archive Sandton and Shortmarket Street.
– – – – – – – – – – – – – – – –
Shelflife
CLICK HERE TO ENTER THE RAFFLE
The Nike Dunk Low SP 'City Market' drops via live donation raffle starting at 9am Sat 3rd April 2021 at our CPT & JHB stores. Retail price will be R1999, with a minimum cash donation of R100 that goes to Siyabonga Africa. Once you have paid the raffle entry fee on the day to a member of Shelflife staff, you will be handed a raffle band. One band per person. The following sizes will be available for purchase:
Sizes: UK7,UK8,UK9,UK10
Our online release will happen as follows:
Please READ the below the Terms & Conditions VERY CAREFULLY for the online raffle release.
We are doing things slightly differently for this raffle, we want to focus on giving back to the community during these trying times. In order to qualify for an entry into this raffle, you will need to make a donation to our Backabuddy campaign. All donations will be given to the Siyabonga Africa foundation. If you do not make a donation, your raffle entry will be disqualified from the raffle draw.
Please ensure when you make your donation on the Backabuddy link, that you DO NOT use the anonymous option. Your donation needs to be made using the SAME email address that you use for your Shelflife online profile. If you haven't setup a Shelflife online store profile do so by clicking HERE
Please see the Backabuddy information you will need to supply in the example below: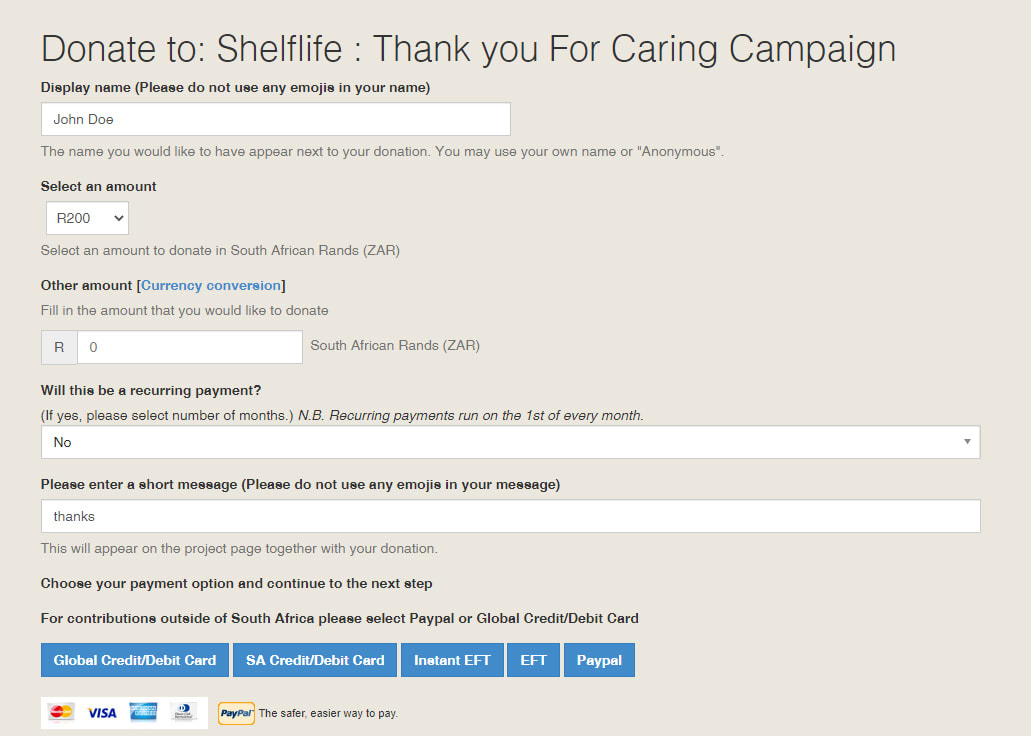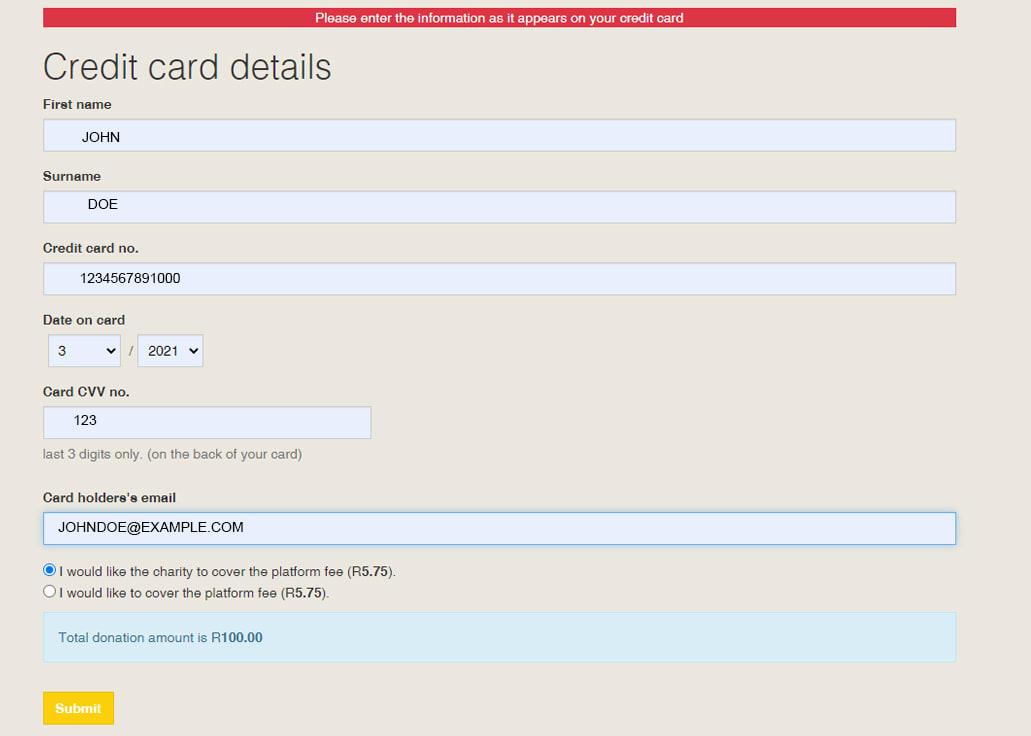 1. This raffle is open to all people residing in South Africa ONLY.
2. By entering your name, shoe size, valid bar-coded ID or Passport and email address, your name will be entered into the draw for the opportunity to buy one pair of the Nike Dunk Low SP 'City Market' in your size, at the given date and time.
3. To qualify for the opportunity to purchase online, you must have a confirmed online profile/account with Shelflife.co.za which you can do HERE, as well as having made a donation to our Backabuddy campaign minimum of R100. Please ensure your account is updated with contact details, and shipping information. If you have already created an account with Shelflife.co.za in the past you do not need to create a new one.
4. After completing an online profile, you can enter the raffle via our dedicated link below with your details from 6pm on Monday the 29th of March until 9am on the 1st of April 2021.
5. The winners will be drawn at random and will be contacted and invoiced between 10am and 3pm on the 1st of April, via email only (please make sure the email you have created for your online profile matches your online competition form). Online Raffle Winners will have until Friday the 2nd of April 2pm, to make payment for their online order at the store they selected on the raffle entry form.
6. Successful entrants will be eligible to purchase their size they have selected ONLY in the online raffle form and must settle payment in full prior to receiving their pair.
7. Each successful entrant will have the right to purchase one pair of the Nike Dunk Low SP 'City Market' in the size they indicated on their entry. Entrants may not swap sizes nor request another size than the one they indicated in their entry.
8. The Nike Dunk Low SP 'City Market' will cost R1999 each and is payable via online invoice with delivery. All info is contained in the winning email. This is excluding your donation.
9. Shelflife has the final say in all sales of the Nike Dunk Low SP 'City Market'
10. Should your entry not be chosen your donation to enter the raffle will not be refunded.
11. All donations will go to Siyabonga Africa you can visit their site HERE
No refunds or exchanges will be accepted for this product.
PLEASE NOTE: You must use the matching name and email address from your Shelflife online profile when donating to ensure the payment reference is correct and can be allocated to my entry. DO NOT DONATE ANONYMOUSLY IT CANNOT BE LINKED TO YOUR ENTRY IN THAT CASE.
– – – – – – – – – – – – – – – –
Lemkus (TBC)
---
Share your thoughts on this article and join the conversation on Twitter or Facebook.
---
(Visited 1,406 times, 1 visits today)