*Please note we will keep updating this page with new events and information throughout this year.
This year we will get to see more concerts and festivals return as the country slowly goes back to normal. It has been 2 years and massive shows were not allowed to take place due to the ongoing pandemic and strict regulations. This has resulted in some of the memorable festivals and shows getting canceled and being postponed.
Fortunately, some of the big organizers and curators have already announced dates for their 2022 events. Some of the shows we will get to see this year include Riky Rick's Cotton Fest, Bacardi Holiday Club, Corona Sunsets Festival, Rocking Daisies, DStv Delicious Festival, Comic Con Africa, Festival of Motoring and Back to the City to mention a few.
All you have to do is open your calendar and add your favorite shows.
Here are the festivals and concerts to look forward to this year:
Sjava LIVE in Durban
Date: 9 December
Venue: Durban ICC
Tickets: Info here
Ballito Rage 2022
Date: 2 – 10 December
Venue: Ballito & Umhlanga
Tickets: Info here
InDoor by J'Something JHB
Date: 3 December
Venue: Vodaworld, Randjesfontein, Midrand
Tickets: Info here
---
Bassline SUMMER
Date:03 December
Venue:Constitution Hill
Tickets: Info here
---
rAGE Expo 2022

Date:9 -11 December
Venue: Gallagher Estate, Midrand
Tickets: Info here
---
Defected, Glitterbox and Sondela SA TOUR
Date:15 – 18 December
Venue: Cape Town & Joburg
---
Schweppes Durban Gin Festival
Date:16 December
Venue: Sibaya Casino & Entertainment Kingdom
Tickets: Info here
---
SHIMZA Live

Date:17 December
Venue: SunBet Arena, Pretoria
Tickets: Info here
We House Sundays Festival
Date: 17 -19 December
Venue: Du Kloof Lodge, Paarl, Western Cape
Tickets: Info here
---
Ballito BIG Week
Date: 22 December – 01 January
Venue: Ballito Cane Fields
Tickets: Info here
Big Zulu Home Coming Festival
Date: 24 December
Venue: Bergville Sports Complex, Golf Rd, Bergville
Tickets: Info here
Sizzled Summer Music & Food Fest
Date: 26 December
Venue: Fort Wynyard, 15 Fort Wynyard St, Green Point, Cape Town
Tickets: Info here
---
Corona Chasing Sunsets with Goldfish
Date:26 December
Venue:Grand Africa Cafe & Beach, Cape Town
Tickets: Info here
---
Sexy Groovy Love on Holiday

Date:26 December
Venue: Coco Valley, Airport Road Roodefontein, Plettenberg Bay
Tickets: Info here
---
KUNYE
Date:27 December
Venue:Cabo Beach, Cape Town
Tickets: Info here
---
Altitude Beach New Year's Eve ft OXLADE
Date:31 December
Venue: Altitude Beach, Fourways
Tickets: Info here
---
H20 New Year's Eve
Date:31 December
Venue: Wild Waters, Boksburg
Tickets: Info here
FactDurbanRocks NewYearsEve
Date: 31 December
Venue: Moses Mabhida Peoples Park
Tickets: Info here
---
Date:
Venue:
Tickets: Info here
---
---
PAST FESTIVALS / EVENTS
Corona Sunsets Festival
Date: 29 October
Venue: Huddle Park, Linksfield, Johannesburg
Tickets: Info here
---
HomeComing Africa
Date: 29 October
Venue: Voortreker Monument, Pretoria
Tickets: Info here
---
Basha Uhuru
Date: 29 October
Venue: Constitution Hill, Johannesburg
Tickets: Info here
The Cape Town Food & Wine Festival
Date: 29 October
Venue: Westridge Gardens / Mitchells Plain/Cape Town
Tickets: Info here
Killarney Motor Show
Date: 30 October
Venue: Killarney International Raceway, 6 Potsdam Road, Killarney Gardens
Tickets: Info here
---
Move 947 Joburg Day
Date: 4 – 5 November
Venue: Prime View, Olifantsfontein
Tickets: Info here
We Don't Play The Same Gqom Fest
Date: 5 November
Venue: Hollywoodbets Greyville Racecourse
Tickets: Info here
---
Wild & Out Holidays (Boutique Festival)
Date: 4 – 6 November
Venue: Villa Paradiso, HARTBEESPOORT DAM, NORTH WEST
Tickets: Info here
---
Zwakala Mzansi and Celebrate Heritage Festival
Date: 5 November
Venue: Wanderers Stadium, Illovo
Tickets: Info here
---
Jozi Kota Festival
Date: 5 November
Venue: The Station, 140 Carr Street, Newtown
Tickets: Info here
---
Blacks Only Comedy Night – David Kau
Date: 12 November
Venue: Center Court Emperors Palace
Tickets: Info here
OneRepublic LIVE Concert
Date: 15 November @ Grand Arena (CPT)
18 & 19 November @ SunBet Arena (PTA)
Tickets: Info here
The Cannabis Expo JHB
Date: 18-20 November
Venue: Sandton Convention Centre
Tickets: Info here
---
Black Coffee Live In Mthatha
Date: 19 November
Venue: Mthatha Stadium
Tickets: Info here
---
Joy of Jazz
Date: 25 – 26 November
Venue: Sandton Convention Centre
Tickets: Info here
This is Art
Date: 26 November
Venue: Cape Town International Convention Centre
Tickets: Info here
Schweppes Cape Town Gin Festival
Date: 26 November
Venue: GrandWest Casino
Tickets: Info here
Gin & Tonic Festival
Date: 26 November
Venue: Victoria Yards
Tickets: Info here
---
Youth Hip Hop Festival Launch
Date: 26 November
Venue: Hollywoodbets Greyville Racecourse
Tickets: Info here
---
YFM LYFE
Date: 26 November
Venue: Carnival City Lawns
Tickets: Info here
UP CLOSE AND PERSONAL with KENNY LATTIMORE
Date: 26 November
Venue: Sunbet Arena @ Time Square, Menlyn Maine
Tickets: Info here
---
The Balcony Mix Africa

Date: 2nd, 3rd and 4th September
Venue: Katy's Palace in Kramerville, Sandton
Tickets: Info here
---
FNB Art Joburg
Date: 2 to 4 September
Venue: Sandton Convention Centre
Tickets: Info here
---
Groovers Prayer
Date: 03 September
Venue: Mea Culpa, Kew, Johannesburg
Tickets: Info here
---
Shimza and Friends at Kings Park
Date: 10 September
Venue: Kings Park Stadium, Durban
Tickets: Info here
---
Comic Con Africa 2022
Date: 22 – 25 Sep
Venue: Johannesburg Expo Centre, Nasrec, JHB
Tickets: Info here (R180)
---
DStv Delicious Festival
Date: 24 – 25 September
Venue: Kyalami Grand Prix Circuit
Tickets: Info here (from R550)
---
Justin Bieber LIVE in South Africa
Date: CANCELLED
---
Back to the City Festival
Date: 01 October
Venue: Mary Fitzgerald Square (Newtown)
Tickets: Info here
---
H20
Date: 01 October
Venue: Wild Waters Complex in Boksburg
Tickets: Info here
Homie.Lover.Friend – Evergreen
Date: 01 – 02 October
Venue: Farmhouse 58
Tickets: Info here
---
Celeb City : Cassper Nyovest vs Priddy Ugly
Date: 01 October
Venue: Sunbet Arena, Times Square, Pretoria
Tickets: Info here
Rocking the Daisies
Date: 7-9 October
Venue: Cape Town (Cloof Wine Estate, Darling) – Joburg (Supersport Park, Centurion)
Tickets: Info here
---
Spring Fiesta Music Festival
Date: 08 October
Venue: Wild Waters Complex in Boksburg
Tickets: Info here
---
BMW M Festival
Date: 15 and 16 October
Venue: Kyalami Grand Prix Circuit
Tickets: Info here
---
Schweppes Joburg Gin Festival 2022

Date: 15 October
Venue: Montecasino, Fourways
Tickets: Info here
---
Pick n Pay Wine & Food Festival
Date: 22 and 23 October
Venue: Wanderers Cricket Club, Illovo,JHB
Tickets: Info here
---
Festival of Motoring 2022
Date: 26 and 28 August 2022
Venue: Kyalami Grand Prix Circuit, Johannesburg
Tickets: Info here
---
Mother City Comedy Festival
Date: 21 – 26 February
Venue: Artscape Theatre, Western Cape
Tickets: Info here (R108 – R180)
---
UMI: Our Music Festival
Date: 26 February
Venue: Victoria Yards, 16 Viljoen Road, Lorentzville, JHB
Tickets: Info here (R150)
---
Boiler Room x Ballantine's True Music Studios
Date: 22 Feb – 03 March
Venue: Info here (Johannesburg)
Tickets: Info here
---
A Letter to Azania (Thandiswa Mazwai LIVE)
Date: 26 February
Venue: OPERA at SA State Theatre, Pretoria
Tickets: Info here
---
Corona Chasing Sunsets – Cape Town
Date: 26 February
Venue: Grand Africa Cafe & Beach, Cape Town
Tickets: Info here (250 – 750)
---
We House Sundays – Birthday Festival
Date: 26 February
Venue: Ruitervlei Wine Estate, Suid-Agter-Paarl Rd, Paarl
Tickets: Info here (R240 – R340)
---
Paris New-York Heritage Festival Joburg
Date: 05 March
Venue: Constitutional Hill – Women's Jail, JHB
Tickets: Info here (R150 – R300)
---
Bacardi Holiday Club
Date: 04 – 06 March
Venue: Welgelegen Manor, Mpumalanga
Tickets: Info here
---
Bicycle Film Festival Cape Town
Date: 10 – 11 March
Venue: The Labia Theater, Western Cape (10th) – Maker's Landing (11th)
Tickets: 10 March info | 11 March info
---
Cape Town Carnival 2022
Date: 19 March
Venue: Multiple Venues – Info here
Tickets: Info here (R10)
---
Fact Durban Rocks Picnic
Date: 20 March
Venue: Kings Park Stadium Outer Fields,Durban
Tickets: Info here (R350)
---
Corona Chasing Sunsets – Durban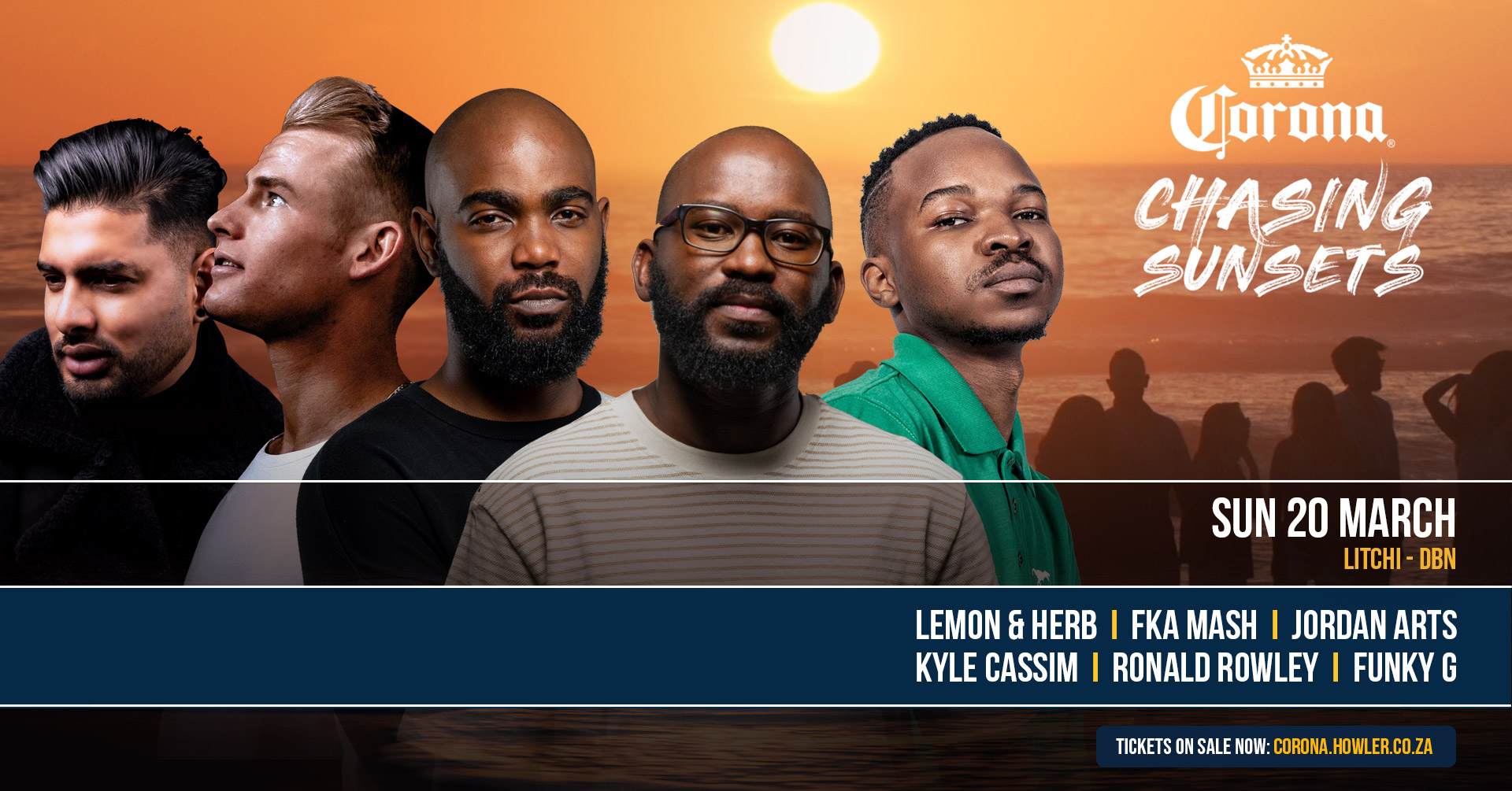 Date: 20 March
Venue: The Litchi Orchard, Salt Rock, KZN
Tickets: Info here (R250)
---
KUNYE – Cape Town
Date: 20 March
Venue: Cabo Beach Club, Cape Town
Tickets: Info here (R350 – R750)
---
Johannesburg International Comedy Festival
Date: 24 – 29 March
Venue: Maslow Hotel in Sandton and the Theatre on The Square
Tickets: Info here (R200)
---
Corona Chasing Sunsets – Pretoria
Date: 27 March
Venue: Summit Grill and Sky Bar Menlyn, Pretoria
Tickets: Info here (R250)
---
All White Family Picnic at Joburg Zoo
Date: 27 March
Venue: Johannesburg Zoo, Jan Smuts Avenue
Tickets: Info here (R110 – R130)
---
Pretoria Gin Festival
Date: 02 April
Venue: Fire & Wine, Pretoria
Tickets: Info here (R190)
---
Corona Chasing Sunsets – Johannesburg
Date: 03 April
Venue: Katy's Palace Bar (Kramerville), JHB
Tickets: Info here (R250)
---
Corona Sunsets Festival
Date: 09 – 10 April
Venue: The Edgar Lipsett Oval, Clifton, Cape Town
Tickets: Info here (R460 – R660)
---
Cassper Nyovest vs NaakMusiQ – Celeb City Weekend
Date: 08 – 11 April
Venue: Sun City Resort, North West
Tickets: Info here (R9000 – R65500)
---
Cotton Fest 2022
Date: 23 – 24 April
Venue: Old Park Station, Newtown, JHB
Tickets: Info here R200 – R275
---
Vic Falls Carnival 2022
Date: 29 April – 1 May
Venue: Elephant Hills Resort, Victoria Falls
Tickets: Info here (R750 – R11800)
---
Tequila & Mexican Food Festival
Date: 28 May
Venue: Royal Elephant Hotel & conference Centre, Centurion, Pretoria
Tickets: Info here
---
---
(Visited 17,354 times, 1 visits today)